Bulk Edit and Classify
for Microsoft SharePoint 2010, 2013, 2016 & 2019
Bulk Edit and Classify
This simple to use SharePoint add-on allows Site Owners and SharePoint Users to select or 'check' multiple items or documents and modify their metadata in bulk.
Supports bulk updating content types, people picker fields, date/time fields, text, number and many more. Includes ability to build a query before updating or deleting, such as updating all items from Content Type A to Content Type B and set the appropriate values. Mapping field values is also supported (such as from the field 'Name' to 'Title'). Provides a confirmation screen to ensure the user knows what they are modifying.
---
Starting at USD $999.00
Solution Type
Farm / on-premise only

Version 3.5.0.0

Last Updated April 2018
Features
Supports all Document Libraries & List types

Easy to use

Bulk Edit Content Types, People Picker, Date fields (not normally supported by SharePoint), etc.

Bulk Update Item metadata based on user defined criteria

Allows updating all selected items at once (same metadata), or one at a time

Allows deleting items based on matching criteria, provides confirmation screens

Optionally auto-check out and check in

Selectively update only blank fields

Retain Author information such as Last Modified
License Type
Perpetual (One-time)

1 license required per farm

Technical Support & Software Assurance available $300USD per year (optional)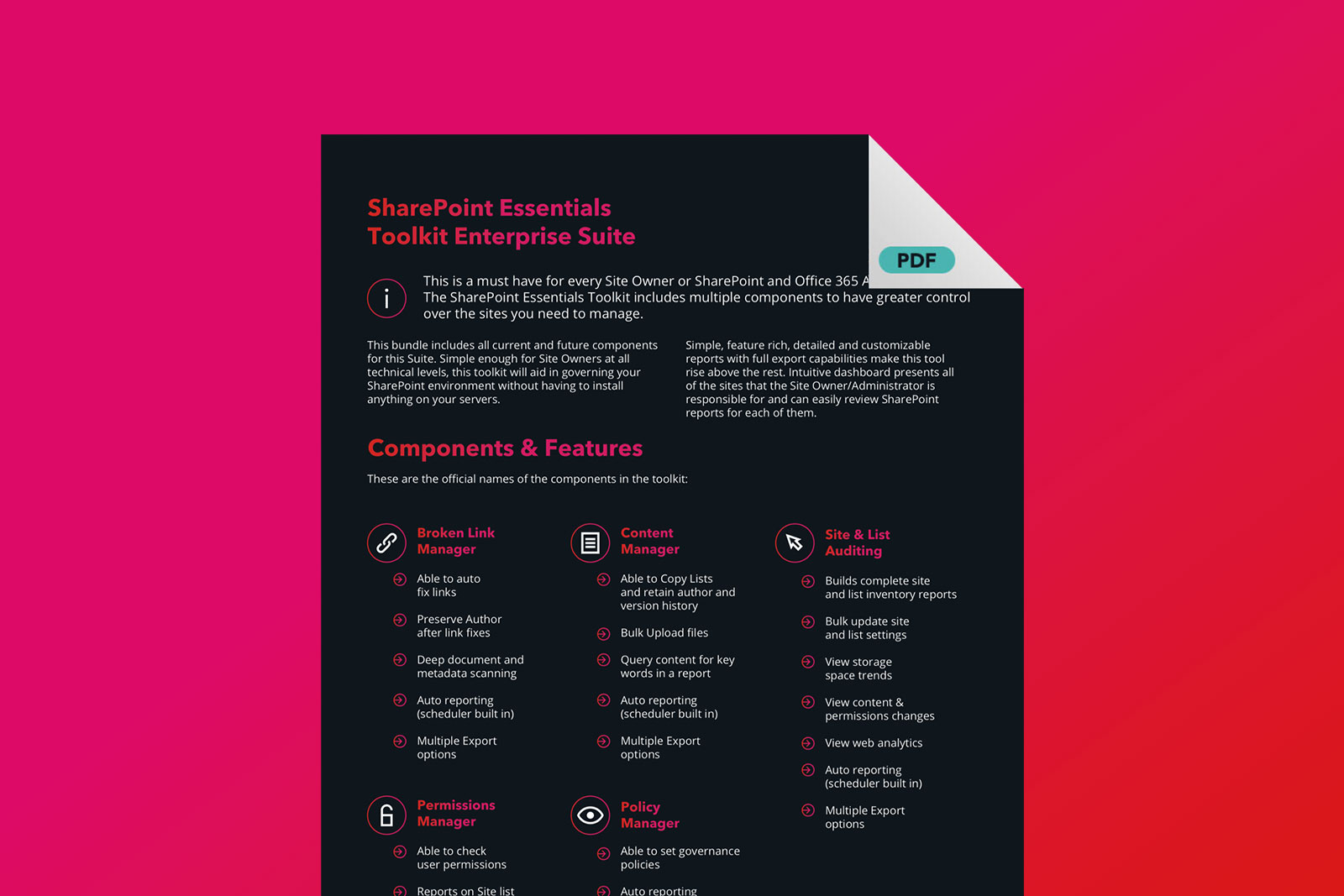 Our Products

This is a must have for every Site Owner or SharePoint and Office 365 Administrator. The SharePoint Essentials Toolkit includes multiple components to have greater control over the sites you need to manage.
SharePoint Essentials Toolkit
"Excellent product!"
4.5 out of 5

by SharePointReviews.com